Features of Our Hotel Staff Management System
Task Management
The Task Management platform replaces antiquated communication mechanisms such as handwritten logbooks and spread out sticky notes with built in task notifications and reminders that will allow you to keep up with every complete & incomplete task.
Messaging, Group Chat and Live Feed
Internal communication between departments, staff, and management is essential to running a smooth operation. Keep everyone on the same page by utilizing our instant messaging system with push notifications. The live feed option allows important updates to be seen by all members of the hotel staff .
Electronic Checklists and Cloud Vault
Create it once and it's done! Run Shift Run is here to help you save resources and time by getting rid of printed checklists or PM WORK sheets, etc. Staff members will have access to their daily checklists on their personal dashboard and will be able to update their progress as each checklist task is completed.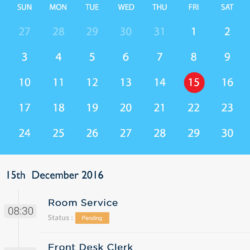 Schedule Manager
Hotels are a 24/7/365 business and are occupancy driven. When it comes to scheduling we have designed a feature to lift the load of your shoulders with shift schedule notifications, online schedule viewing, automatic shift swaps with manager's approval and much more.
Hotel Calendar
We know how important Guest Retention is to your hotel. With your hotel calendar feature, you can easily personalize your guest's stay by saving important dates like Birthdays and Anniversaries to be shared with hotel staff members. This is a great way for staff to engage with guests on a personal level, making their stay much more memorable.
BONUS FEATURES
Daily Reports
Detailed reports for management to monitor open tasks and employees performance
Wiki
a convenient and easy-to-use search tool available on every user's personal dashboard. This tool allows you to quickly access information for guests such as landmarks, nearby attractions, and directions, and directly email this information to the guest. It is every concierge's new best friend!
Support
24/7 Built in training library and support portal
Email Templates
Design and Upload your favorite templates and email it to your guests